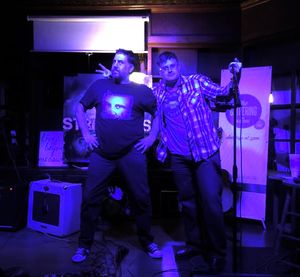 Bio
Radio Saint is an American Indy Rock/pop band from Derby Kansas. The group formed in 2015 by Lead singer/guitarist Jason Kippenberger and Lead guitarist Constantine Panakos. The Band formed soon after they met and realized they both had a passion for songwriting. Fueled by their interests in Indy music and singer songwriters they began recording original music in Tangled Wood studios in Derby Kansas. 
Their first album Strenuous completed in 2017 encompasses several styles reminiscent of David Bowie, Tom petty , David Grey , and Rob Thomas. Their eclectic style keeps the album feeling fresh.  Strenuous has a central theme centered around a relationship that starts off innocent and exciting and quickly devolves into heartbreak. Radio Saint does an impressive job of taking the listener on a ride through a complicated tale of love and despair. 
They are currently working on their second studio album which promises more of the groups flare for story telling.